Just one of the products from the huge range of Bentonites and Polymers we offer through our distribution of CEBO/Baroid Industrial Drilling and Tunnelling Products.
Viscosifier/Gellant
TUNNEL-GEL® PLUS viscosifier is a specially formulated, high-yield bentonite designed for use in tunneling and large diameter HDD operations.
TUNNEL-GEL PLUS viscosifier promotes rapid viscosity development while maintaining effective borehole stabilization and enhanced filtration control in most water-based drilling fluids.
Applications/Functions
The use of TUNNEL-GEL PLUS viscosifier assists or promotes the following:
Enhanced viscosity development in freshwater drilling fluids
Effective cuttings transport and suspension characteristics
Enhanced filtration control and resulting borehole stability
Effective lubrication fluid for microtunneling operations
Product Details
TUNNEL-GEL PLUS viscosifier, is packaged in 25-kg (55.1-lb) multiwall paper bags.
Datasheets and Brochures
Datasheet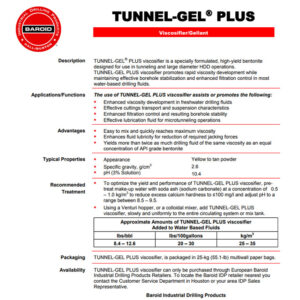 Tunnelgel Plus
Download

Call us now to order on: 01424 854112
Most items supplied within 24 to 48 hours or the same day if required. Talk to us!
Ancillary materials, equipment & fittings for all types of tunnelling